Reading Time:
6
minutes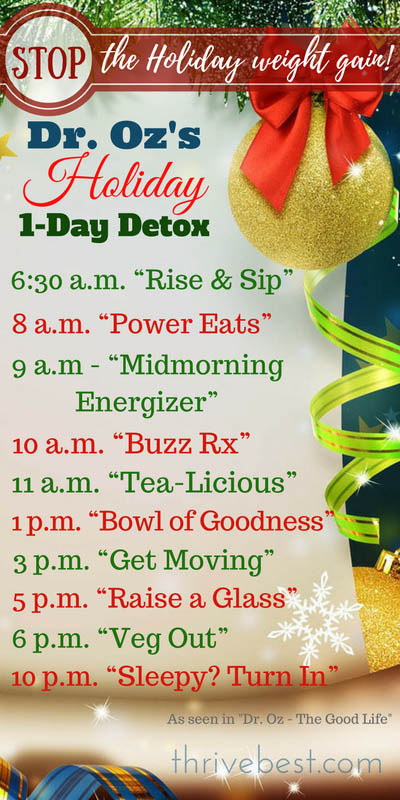 A few weeks ago I received the subscription magazine in the mail called "Dr Oz — The Good Life Magazine". The cover has a headline that caught my attention: "Oz's 1-Day Diet…"
Well, we eat too much rich foods (and others drink plenty of wine too) during the holiday and we may not feel well the next morning. Dr Oz's one-day detox diet restores the body and helps you stop holiday weight gain.
To be safe, you need to talk to your doctor and get his OK before doing Dr. Oz's mini-cleanse.
Dr. Oz's Simple Plan for One-Day Detox
Dr. Oz's one-day detox diet guide for a mini-cleanse is a very simple plan — nothing fancy or complicated.
The Doc's guide consists of the following:
• drinking lots of liquid to fight dehydration
• consuming some protein to curb cravings
• eating fiber- and anti-oxidant-rich fruits and vegetables to support digestion and fight general blahness and sluggishness.
1-Day Detox Main Goal
Your main goal today is to drink a lot water — all day long. This will help you combat dehydration, which can cause disturbing hangover headaches. You can have your water any way you'd like today. Here are the Doc's ideas:
• hot or ice cold
• flat or sparkling
• plain or flavored with citrus…
…And make sure not to forget to drink it.
How much to drink, you ask? You might need to drink even more than the usual 8 glasses.
Would you like to know what Dr. Oz eats to cleanse after the holiday season? Continue reading…
6:30 a.m. "Rise and Sip"
Rise and take a view of the sunrise. Viewing the sunrise might be available for you if you are located in an area with sunshine even during winter. I'm in the Midwest, so the sunrise is rarely visible at 6:30 a.m. in the winter time.
Even if I do not see the sunrise, it's so invigorating to see what's outside from just looking through the window. If it's snowing, it would be so pretty to see.
As you view the sunrise, have a glass of warm water flavored with a freshly squeezed lemon. This citrus drink helps your digestive tract to start moving.
In my case (I am a hypoglycemic), I might add a dusting of cinnamon powder to my morning drink. I found out cinnamon helps in maintaining my blood sugar. I do not know yet how this drink would taste.
Also, the citrus-y lemon drink works as a palate cleanser, which cuts into our cravings. This drink is really helpful for us to combat our cravings because we sometimes confuse thirst and hunger.
There were many times I was feeling hungry, but after drinking some water, my hunger was gone.
8:00 a.m. "Power Eats"
Drink another glass of water before having your breakfast.
For breakfast: have a plain 2% Greek yogurt topped with berries. If I ever have this kind of breakfast, I also add a dusting of cinnamon. From this breakfast you will get the following benefits:
• Protein ― The satisfying protein from yogurt helps you feel full so that you won't be craving for junk foods.
• Potassium — The potassium from yogurt fights dehydration.
• Probiotics — The probiotics from yogurt combats bloating.
• Berries — Its fiber keeps things moving in your digestive tract.
9:00 a.m. "Midmorning Energizer"
Are you feeling sluggish? Don't reach for coffee!
Why not have another glass of water instead?
Don't think that coffee is the only way to beat sluggishness. Coffee is not the only energizer that is available for us.
Do yoga exercise for a few minutes. Dr. Oz suggests a Sun Salutation yoga exercise — it just might be the boost that you are looking for.
This is my first time to hear about Yoga Sun Salutation. If you're wondering how to do the yoga Sun Salutation, check out the video below.
Video: How to Practice Sun Salutation — Step-by-Step, Pose-by-Pose Guide Yoga
Watch the video on how to do Yoga Sun Salutation. The step-by-step guide is perfect for beginners.
10 a.m. "Buzz Rx"
Are you still feeling foggy and craving for caffeine drinks?
Well, Dr. Oz suggests that you can go ahead and have your fix with coffee. But drink only half of the amount of what you usually pour.
Not so fast, though, the Doc warns you. Here's what he says…
Coffee and caffeinated tea can be harsh to your stomach, which doesn't need any extra challenges today.
11 a.m. "Tea-Licious"
From your fiber-rich protein breakfast that you had this morning, you should still feel full at this point. And maybe from all the liquids you've been drinking today, you might be feeling a bit sloshy.
Even if you are not feeling thirsty, Dr. Oz advises you to keep on drinking. He suggests brewing up a cup of tea by steeping fresh ginger in hot water. You can use either sliced or grated ginger.
Ginger is one of my favorite teas — I call it "ginger ale". It's very helpful in calming an upset stomach. I find it also helpful for me whenever I have a headache.
1 p.m. "Bowl of Goodness"
Oh, I love this part: We get to eat. 😉
Dr. Oz wants you to have a nice big bowl of vegetable soup.
During the cleanse, he warns that eating some raw veggies can be tough to digest, so it's better to have soup instead. Having vegetable soup is a gentler way of getting the nutrients that you need. He suggests to add cooked quinoa to make the vegetable soup more filling. Oh, yum!
3 p.m. "Get Moving"
How about some good news?
Here… By now, you should be feeling better!
Dr. Oz suggests to take advantage of this by doing a workout that is normal for you. This means, don't try some trendy workout. The Doc has also warned that pushing yourself too hard risks injury and it's just not worth doing it.
For Dr. Oz―he does running.
The doc says: "work up a sweat, water bottle in tow." So don't forget to drink your water.
My favorite exercise is bouncing and doing a silly dance on my trampoline in front of our big mirror in our living room. I really have a lot of fun doing it.
My other favorite exercise is using the kettlebell — it's another workout where I never feel bored.
5 p.m. "Raise a Glass"
You think it's Cocktail Time?
If you're thinking of Cocktail Hour at this point, sorry my friend — not today.
Don't even think about it. You've made it this far, and don't ruin your one-day detox goal with a glass of booze which will dehydrate your body.
According to Dr. Oz: Just drink more water — grab a glass of water with a squeeze of lemon. If you prefer, you can brew up a cup of herbal tea.
Personally, I prefer peppermint tea. It's very soothing and relaxing.
6 p.m. "Veg Out"
Now here comes my favorite!
I bet you are looking forward to this too: "End your day with plant-based proteins."
Dr. Oz suggests my truly favorites: "a comforting blend of brown rice and lentils."
To support your digestion, you can cook the brown rice and lentils with added herbs and spices, such as:
• fennel
• ginger
• turmeric
• coriander
The Doc also adds spinach and carrots. Steamed asparagus may be added — which is excellent if you still feel bloated. And by the way, avoid vegetables that cause extra gas.
Here's a word from Dr. Oz:
"Having an early dinner will help you get to bed at a reasonable time."
10 p.m. "Sleepy? Turn In"
Before you start this one-day cleanse this morning, you were not feeling well because of the feast you had during the holiday season — you had consumed too much "rich food" and probably some wine too.
Dr. Oz notes,
"Getting your full 8 hours is a must tonight to help you fully recover."
Dr. Oz' Weight Loss Tips
Before the lights go out tonight, here are some more very important things for you to know, from Dr. Oz, if you want to lose weight.
If you don't get enough sleep, here are the disadvantages:
• you are more likely to overeat
• your body becomes less efficient at burning calories
Sleep is very important for weight loss and also for maintaining our health.
The Best Time to Sleep
Do you know when is the best time to sleep?
If you are a workaholic like me, you need to listen to Dr. Oz's explanation,
"The sweet spot for bedtime is 3 to 4 hours after your last meals. You've waited long enough to reduce reflux and bloating but not so long that you'll start to get hungry (and want to nibble) again."
Make sure you don't go to bed feeling full or feeling hungry.
Dr. Oz's one-day holiday diet detox is easy, plain and simple.
Now it's time to go to bed.
Lights out.
Good night…..
Reference: "The Good Life," Dec/16, pp. 74, 75