Reading Time:
3
minutes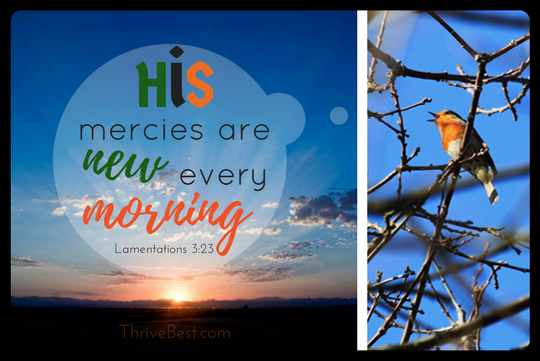 We have a tall, red maple tree right in front of our yard. This tree is like a bird sanctuary, and every morning the birds are in chorus.
There are times when I wake up around 4:30 to 5:30 early in the morning. The very first thing I hear are the birds chirping busily, singing sweetly in the red maple tree's branches.
Did you know that this is the birds' way of praising God for a new day? Birds are one of God's creatures, and as they sing, they are thanking and acknowledging God as their Creator.
But most of us have no time to praise and thank God early in the morning. We are too busy doing other things and we never think of praising God.
We usually do our morning routine: taking a shower, having breakfast, and then leaving for work. Is this how your morning goes? Are you scrambling and hurrying in the morning?
My mom was a Christian. When I was young, my mom taught us kids to say thanks to the Lord as soon as we woke up. She encouraged us to make this a habit every morning.
Now I have a family of my own, and I also teach my two daughters to do the same thing: 'Say thanks to the Lord as soon as you wake up in the morning, and make it a daily habit.'
My Morning Prayer of Thanks
So, once I wake up in the morning, even while I am still lying on my bed, I say my prayer of thanks. These are a few of the things that I appreciate and thank the Lord for:
• "I'm thankful for a new day of life." I can start a brand new day with my life and can enjoy things that God has prepared for me. It's something that I can look forward to, which can be helpful as I deal with my menopausal symptoms and other health issues. It's also a new day to start, make the right choices that I had failed to do in the day before, and not to make the same mistakes that I had done yesteday.
• "I'm thankful for God's protection in the night." I'm thankful for His protective care because there are so many dangers that can happen during our nightly sleep. You never know what's happening around you when you're asleep. And I thank God that He is awake all the time!
• "I'm thankful for the good night sleep." Insomnia is one of the many symptoms that menopause can bring–it is a very common symptom. Having a good sleep while a woman is in a menopausal stage is truly a blessing.

• "I'm thankful for the rain." If it had rained last night or it is raining as I wake up, I'm so thankful for it. I love rain so much, especially when I can hear what I and my daughters call "thunder boomers."
With menopause, because a woman's body is changing, life is very stressful.
When the rain comes down and I can hear the rain pitter-pattering on the roof and on the awning of our windows, it feels so cooling and refreshing. It feels so calming for my nerves and I feel like stress is washed away.
Every night before I go to bed, I check out our local TV website's interactive weather radar to see if there's rain coming. If I see the green spots in the interactive radar approaching toward our area, I look forward to it.
There's a verse in the Bible that says:
Through the Lord's mercies we are not consumed,
Because His compassions fail not.

They are new every morning;
Great is Your faithfulness.

Lamentations 3:22-23
I'm thankful for the Lord's faithfulness in loving us and giving us blessings daily that we may enjoy life. His blessings are new every morning.
Do you think you have no time for a short prayer of thanksgiving in the morning?
Giving thanks to the Lord is like sending a text message or a tweet in Twitter but without the use of any device. You don't need to reach your smartphone or log on to your computer.
You can say a simple thanksgiving praise to God as short as this:
"Lord, thank you for the soft pillow and a nice bed…"
How quick is that to say a thankful praise to the Lord!
How thankful are you this morning?
Are there things that you are thankful for?
Please leave a comment below and let us know how thankful are you this morning…!