Reading Time:
3
minutes
It is important to know how to do dry skin brushing. When skin brushing is done right and consistently, you will get healthier and younger-looking skin. It also makes the whole body healthy.
What Type of Brush for Skin Brushing
First of all, you need to acquire an all-natural vegetable fiber brush (such as the Yerba Prima Tampico Skin Brush) or  loofah. Make sure the bristle isn't made of synthetic fiber because it can irritate the skin.
You can find these brushes at natural food stores or online.
A long handle brush is very helpful for reaching your back.
When is the Best Time to Dry Skin Brush?
The best time to dry skin brush is right before your morning shower or bath.
Remember to brush  when the skin is dry. When the skin is brushed when it is wet, you might pull and sag the skin.
How to Skin Brush?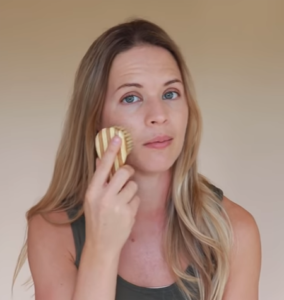 This is how to do the dry skin brushing…
Begin by gently brushing with one-stroke movements. The skin should not become red. If it does, you are probably too hard.
The basic principle is to brush from the outermost points of your body (hands and feet) towards the center.
Start by brushing from your feet to your abdomen, then from your hands up your arms towards the heart.
Brush across your upper back, and down the front and back of your torso.
A slight flush due to increased blood circulation is normal, and shows that your skin brushing is working. Be careful not to brush so hard that your skin turns bright red.
Direction on How to Dry Brush Your Face
Helpful Video on Dry Brushing the Face
You can find the links below where you can purchase the natural dry brush for sensitive skin:
The BestWays magazine has shared their readers on how to dry brush your face using the following procedure:
For your face, use a softer brush since blood vessels are nearer the surface of the skin and can be broken if brushed too hard.
Begin in the center of your face and stroke outwards. Then brush down the sides of your face and neck.
This gentle friction vitalizes your skin and keeps it glowing.
3-Minute Dry Skin Brushing
The process takes about 3 minutes.
When you are finished, jump into your bath or shower. You will feel a light, tingling sensation over the whole body.
Benefits of Skin Brushing
The best way to find out about the benefits of dry skin brushing is to try it for yourself.
Most people find that it feels wonderful, helps the skin youthful and beautiful, and actually improves the health of the whole body.
Dry skin brushing is the most powerful thing you can do for the skin and lymphatic system drainage on a daily basis.
It takes only a few minutes a day and really produces results.
← Read Previous Article: Dry Skin Brushing: Lymphatic Cleanse, Cellulite and Weight Loss
Source: BESTWAYS, March 1984