Reading Time:
4
minutes
Doctors and nutritionists are now discovering that dry skin brushing is an effective part of a regimen for promoting youthful and healthy skin. They have for years emphasized the importance of a balanced diet, exercise and drinking plenty of fluids.
Dry Skin Brushing Beauty Secret
Dry skin brushing is not new. In fact, it has been a beauty secret of men and women for ages.
Through out the world, people have used various forms of skin brushing, such as rubbing the skin with course plant fibers and loofahs, scrubbing with dry sponges or brushing the skin with vegetable or boar bristle brushes.
Legend has it that the loofah was discovered when an ancient king offered a great reward to anyone who could find a way to smooth and soften his skin without damaging it. Hence, the discovery of this natural vegetable sponge. Sponges from the Mediterranean have been used for centuries by men and women to cleanse and soften their skin.
In Finland, people vigorously brush their bodies with twigs before entering the sauna. In Turkey, the Turkish towel became famous as a means to rub dead skin off the body before and after the bath. These health practices serve to open the pores and stimulate perspiration.
Whether for cleanliness, beauty or health, the practice of dry skin brushing has continued because it is so beneficial for the body.
Get Clean and Smooth Skin From Dry Skin Brushing
Dry skin brushing is one of the best ways to clean the skin without removing the protective mantle of acid and oils. Most commercial soaps clog the pores and leave a film much like what is seen if you dip a glass into soapy water, then let it dry.
Soap can change the pH balance of the skin, and the chemicals and synthetic perfumes contained in many soaps are absorbed through the pores. Daily dry skin brushing removes the top layer of dead skin with its build-up of dirt and acid, and deeply cleanses the skin.
Unlike soap, which can have a drying effect, skin brushing stimulates the oil producing glands and assists the body's own moisturizing process.
Beautiful Skin
In addition to its cleansing qualities, dry skin brushing can actually help keep your skin beautiful, youthful and radiant, because it works with the body's built-in regenerative process.
The top layer of the skin is often devoid of moisture, color and luster because it does not receive the life and nutrients that come from within the body. Furthermore, this layer does not have the vibrancy of the younger cells just below the surface.
Dry skin brushing removes the top layer of dead cells, opens the pores and enables the skin to "breathe" more freely. As the dead epidermis cells are shed, new living cells move up through the layers to the surface. This is an essential process for maintaining youthful, supple skin.
Skin brushing also stimulates the flow of blood near the surface which brings full color to the skin.
Bumps, dry patches and scales, particularly on the upper arms, are often an accumulation of dry skin cells. These areas can be smoothed and softened by daily skin brushing.
Toning Your Skin, Cellulite, and Weight Lose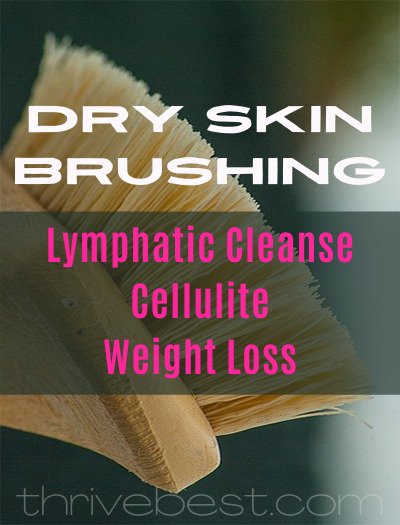 Fitness and beauty salons throughout Europe and United States prescribe daily skin brushing because it stimulates total body circulation, assists in breaking up fat deposits and tones the muscles.
A salon operator in Santa Barbara, California recommends dry skin brushing as an essential part of her weight loss and body shaping program.
Cellulite is often a result of trapped waste material that is stored in the fatty tissue just below the skin, she says, and dry skin brushing increases circulation which helps to draw out stored waste and toxins.
People tend to lose weight faster and more evenly over the entire body. She goes so far as to maintain that dry skin brushing provides stimulation to the skin equal to one-half hour of exercise. When used in conjunction with a good diet and regular exercise, the results of skin brushing can be seen after a few weeks.
Practitioners Recommend Dry Skin Brushing For Enhancing Your Health
As the largest eliminative organ, the skin plays a vital role in ridding the body of toxins and impurities that are a potential source of future illness.
Many health practitioners recommend dry skin brushing to open up the pores of the skin and clean out the lymphatic system. When the pores are not clogged with dead cells the lymphatic system is cleansed, the body is able to carry out its important function of eliminating toxins and waste material.
Dr. Mary Crow, a chiropractor in San Francisco Bay Area, claims that today, people do not perspire enough and that synthetic clothing can have suffocating effect on the skin. For this reason, skin brushing is particularly valuable in enabling the body to breathe and function properly. Further, it increases blood circulation in all underlying organs and tissues.
As part of a detoxification or internal cleansing program, Dr. Crow has her patients combine skin brushing with saunas. They are advised to skin brush before entering a sauna, remain until in a full sweat, take a warm shower followed by a quick cold shower, dry off, dry skin brush again, jump back into the sauna, and remain to the point of flowing perspiration. This is a powerful method for eliminating waste and toxins from the body.
Read next → How to Do Dry Skin Brushing
Source: BESTWAYS, March 1984