Reading Time:
4
minutes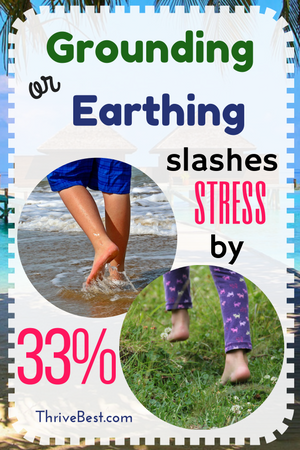 What do you know about "Grounding"?
Oh, I don't mean about the "grounding" punishment strategy that your mom and dad had used in disciplining you when you were a kid.
I had never heard about "grounding" before. A friend of ours had sent us a health article about grounding written by Dr. Mercola.
The article was based on the documentary: "The Ground 2" a sequel to the film "The Grounded."
Have you ever tried walking barefoot on green grass or on a sandy beach? How did it feel? Did it feel good?
Yes, for me, it felt so good! And that's the effect of grounding.
Grounding or Earthing: Walking Barefoot
"Grounding" or "Earthing" is placing your feet without wearing anything on sand, dirt, grass (organic), concrete, brick (make it sure is not painted or sealed), and ceramic tile without a glazed finish. The ceramic tile must not have wood or plastic underneath which would prevent the earth's energy to connect to your body. Your skin must have a direct contact with the Earth.
We have a friend who is a church member of one of the sister churches in our area. Every time I saw her at church, she was always walking barefoot. I kind of sensed that she was walking barefoot for some health reason.
Earth's Healing Energy
When you walk barefoot, your body is receiving a surge of healing energy or electrons from the ground. The earth is rich with these healing electrons.
If you are wearing shoes or slippers made of rubber or plastic, your body will not absorb the energy from the ground. The rubber or plastic materials in the shoes block the energy.
But shoes made of soft leather, such as moccasins, will give you the effect of grounding.
I don't know if you have tried wearing moccasins. I used to have a pair of them, and they were my favorite shoes. No wonder why every time I wore them it felt so good. I never knew that wearing moccasins was so healthful.
I think I better start looking for new moccasins!
Getting Grounded for My Stress Relief
Back to the article. I put to use the new information that I had learned from my friend, and now let me tell you the way I do my grounding.
Every time I feel like I'm having an "information overload" (head pressure or brain fog), it's really stressful for me.
If the weather is not hot or very hot, I step outside to the garden in our front yard. Once I step on our front porch flooring made with concrete, it feels so good. Oh, how good it feels to walk barefoot!
Our garden is covered with tiny rocks and bordered around with bigger rocks about the size of a football. The tiny rocks have rough edges on them, and when I walk over them, I feel a prickly sensation. I could just feel the "information overload" feeling lifted quickly.
Then I stand on the bigger rocks that bordered around our garden. I allow the soles of my feet to press against the surface of the rocks, and I do a rocking motion. This feels like I'm giving my feet a massage… Oh, it feels so good.
Then before coming into the house, I walk around on our concrete driveway then to our front porch made of concrete steps and flooring.
Then I proceed with my work, feeling so refresh and also with restored energy.
Grounding Dos and Don'ts
By the way, the article has also mentioned that the electrons cannot be transferred to your body if you are standing on surfaces like asphalt, wood, rubber, plastic, vinyl, tar, and tarmac.
For indoor grounding, the article has also mentioned that holding the faucet with one hand while the other hand is shaving helps you with grounding.
However, despite all I've said, these healing energies or electrons are not to be used as a treatment or cure for any disease or disorder you may have.
But grounding is one of many healthful techniques that you can incorporate in your daily living.
Grounding Impressive Results
It is very surprising how quickly I get relief for my stress when I do grounding. I'm so impressed.
I just found this must-read info from a magazine. It says:
Going barefoot in nature, or "Earthing," slashes stress by 33%, according to a British study. Stephen T. Sinatra, M.D., coauthor of Earthing, explains, "The Earth is endowed with negative charged ions; by putting barefoot on the ground, the body absorbs these electrons." The result? "Within 1 second, the nervous system begins to calm. Blood pressure decreases; cortisol drops." Get the benefits anytime: Wear shoes with soft leather soles (like mocassins), which Dr. Sinatra says conduct charged ions almost as well as skin, or go barefoot on concrete floors indoors. (1)
Products You May Like:
Here are helpful products on Earthing or Grounding which are available at Amazon.com:
a. Book
• Earthing
You will learn more about the discovery of Earthing from this book. You will also find out how important "Earthing or Grounding" is for our health. If you need vitamin D from the sun, you need vitamin G from grounding. 😉 .
b. Indoor Grounding
• Ground Smart Earthing Mat Kit
This product helps you with getting grounded indoors if you have no time to walk barefoot outside. This is also great if you live in areas with winter snow. The kit includes: a mat, grounding plug and wire, and wristband. The mat measures 25cm x 68cm.
Grounding Video: Drs. Mercola and Sinatra
In this video Dr. Mercola is interviewing Dr. Stephen Sinatra about "Grounding." Watch the video.

Reference:
(1) First for Women, 9/19/16, p. 48
Save