Reading Time:
3
minutes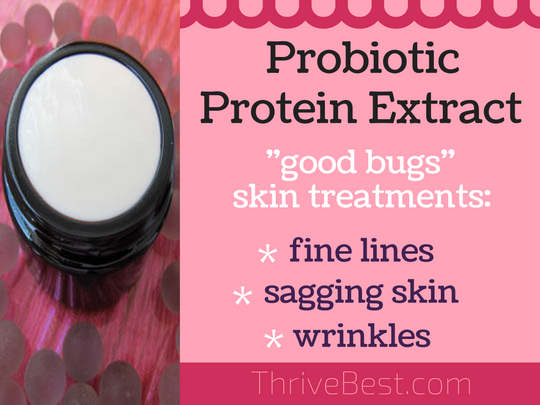 It is said that, "If you are healthy on the inside, then you will look healthy on the outside too."
Your skin tells a lot about how healthy you are inside.
In the 1990's, I had learned that probiotics (or good bacteria) are good for your digestive system. Probiotics can help you improve your health. However, if you have more of the bad bacteria, your immunity will be lowered and you will easily get sick. You will get more health problems.
Several years later, I had heard that the friendly bacteria are excellent for weight loss. People who can eat anything and not gain any weight have a good balance of bacteria in their digestive tracts.
Now very recently, I have learned that probiotics are beauty helpers too. They perform a very important role in skin rejuvenation.
Every time I hear about bacteria or probiotics, I always think of my digestive tract. I knew that every one of us has good and bad bacteria living inside and outside of our body. But for some reason, when I hear or read about bacteria, the picture that comes to my mind is always my digestive system.
New Improved Probiotics for Skin Care
These probiotics are living organisms. They are highly susceptible to dying off, so they lose their effectiveness quickly.
In the past, these beneficial bacteria needed to be refrigerated so that they would stay effective. One time I ordered a bottle of probiotics through the mail, and I had to pay more because they needed to be delivered packed in ice.
But now you can find a lot of these probiotics in health food stores that are not stored in the refrigerator. Manufacturers now-a-days have found a way to produce probiotics with a prolonged lifespan and without the need of refrigeration.
So the probiotics can now be applied externally for skin rejuvenating purposes.
Collagen and Elastin for Anti-Aging Skin
Collagen is a type of protein in our body that is responsible for making our skin flexible.
Elastin is another kind of protein that gives our skin elasticity. These proteins are responsible for making our skin smooth and youthful-looking.
As we age, our body is producing less collagen and elastin.
Other factors, such as too much sun exposure and toxic environments, break down our collagen and elastin also.
Bad Bacteria Skin Damages: Fine Lines, Sagging, Wrinkles
As I mentioned earlier, that good and bacteria also live on our skin. If there's an excess of bad bacteria in our skin, it causes inflammation which damages the collagen and elastin too.
When the collagen and elastin supply is diminished or when they get damaged or broken down, we get fine lines, sagging and wrinkly skin.
We, women hate to see these wrinkles on our skin and face.
Probiotics Protein Extract for Gorgeous Skin
But thankfully, scientists have discovered that they can extract proteins from active friendly bacteria. These extracted proteins remain effective when they are stored at room temperature.
When you apply these extracted proteins from probiotics to your skin or face, the bacteria on your skin becomes balanced. Your skin cells will be stimulated and make your collagen and elastin supplies increase, which will plump up your skin, "erase" fine lines, and reduce your wrinkles.
The probiotic protein extract will rejuvenate your skin cells and then it can fight against the inflammation.
It will also have the ability to lock the moisture into your skin cells that will make your face feel soft and smooth.
I think pretty soon, there will be probiotics in our shampoo and toothpaste. Have you heard if such things are available now?
Probiotic Products You May Like:
The following helpful products are available at Amazon.com:
a. Probiotics for Skin Care:
• Burt's Bees Intense Hydration Treatment Mask
This product is a 99% natural face mask, and it doesn't contain harmful ingredients such as: parabens, phthalates, or petrolatum. It contains clary sage for hydration, which locks moisture for softer skin. This moisturizing mask helps in reducing the appearance of wrinkles and fine lines.
b. Probiotic Supplement for Digestive Health & Weight Loss:
• LoveBug Probiotics ♥︎ Here's The Skinny
This supplement helps in digestion, metabolism and fat loss. Probiotics help in increasing your supply of good bacteria in your digestive tract.
Reference:
First for Women, 2/4/13, p. 18