Reading Time:
3
minutes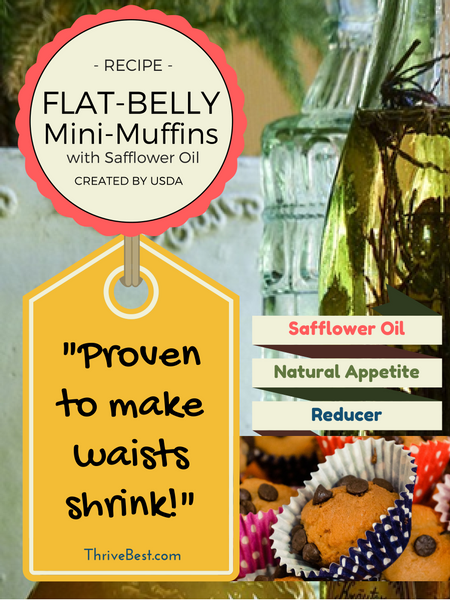 Before you go shopping to get the recipe's ingredients for these safflower muffins, there are some important things that you need to know first.
As I had mentioned in my previous post (if you missed it, read it here → Flatten Your Belly and Lose Weight: Safflower Muffins Discovery) to make this safflower muffin successful for your slimming purposes you need to eat balanced meals and cut 300 calories daily from other foods you eat.
Also, you need to eat 1 mini-muffin per meal; 3 times a day.
Have fun counting calories 😉
USDA's Flat-Belly Mini-Muffins Recipe
The USDA's (United States Department of Agriculture) Metabolic Kitchen created this recipe "Flat-Belly Min-Muffins," which was tested at the University of Maryland.
The recipe is made with polyunsaturated fat–the type of fat you find in safflower oil. And by the way, safflower oil is a flavorless oil.
Well, if you would like to go through with counting your daily calories, here's the recipe:

Here are the things you need:
• 1 cup safflower oil (Hollywood Safflower Oil, 32 oz is available at Amazon.com)
• 1/2 cup packed brown sugar
• 1/2 cup sugar
• 1/2 cup Egg beaters
• 1 tsp. vanilla extract
• 2 cups all-purpose flour
• 1 1/4 tsp. baking soda
• 1/4 tsp. salt
• 1/2 cup mini chocolate chips
• 1/4 cup chopped walnuts

Instructions:
• Preheat oven to 325 degrees F.
• Lightly coat 2 mini muffin pans with cooking spray.
• Mix all ingredients together.
• Fill each muffin cup with 1 Tbsp. batter.
• Bake 10-12 minutes or until baked through
• Cool
• To maximize freshness, use doubled storage bags to freeze any muffins you won't consume within 2 days.
• Defrost in wrapping at room temperature overnight.
• Makes 48 mini muffins. (1)
Slimming with Safflower Muffins
Are you wondering how this safflower muffins will help you slim down?
The University of Maryland's team also wanted to find out why safflower oil has impressive results, so they dug deeper into previous studies. The team came to the following conclusions:
When you eat these safflower muffins, your brain will receive a signal from your gut that you are full, so you will stop eating sooner.
Eating the safflower muffins increases the production of the adiponectin hormone, which is responsible for burning the fat in your abdominal region…Good-bye Belly-Fat!
Adiponectin also blocks new fat formation and signals the body to use the stored fat for energy.
Appetite Reducing Safflower Oil Muffins Work!
Ladies who tried the safflower mini-muffins have commented that not only have they lost weight, but their hunger was also reduced and they didn't crave anything for dessert. They were excited to report their success:
A Minnesota mom was amazed to lose 7 1/2 pounds in a week. She noticed such a difference in her stomach over that week.
One volunteer said that the muffins satisfied her desire for dessert and she wasn't tempted to eat fattening cookies and ice cream.
Since safflower oil naturally reduces appetite – no wonder why the participants who ate muffins enriched with safflower oil lost more weight and shrunk their waists so much more!
I think I might try this someday because I just love sweet muffins, and I also want to reduce my appetite. But I will pass the calorie-counting…
I have never counted calories before–not even once!
Why do we have to count calories?
Do I have to?
But I do love to eat… 😉
Well, I wish my local health food store would make their muffins with safflower oil at least.
Reference:
(1)Woman's Word, 9/5/16, p. 21