Reading Time:
3
minutes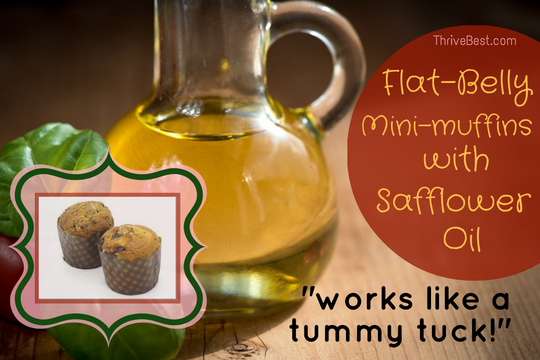 How do you like eating sweet, moist, chocolate muffins for a flat belly and weight loss?
Hmmm, yummy muffins!
That sounds so sweet, doesn't it?
Yes, I am skeptical, but at the same time I am hopeful, too.
To tell you the truth, my belly is a trouble spot too.
I would like to let you know ahead of time that these yummy muffins won't do the trick to flatten your belly — if you won't make an effort to eat healthy… You will find out more below.
I Love Muffins
Muffins are one of my favorite foods.
When I go shopping at our local health food store, I usually buy their gluten-free the blueberry or chocolate muffins from their deli department.
I do prefer blueberry. With chocolate muffins, I need to eat it before 3:00 pm because it disrupts my night sleep if I eat it any later.
For those who love muffins, here is a sweet discovery for you: "Yummy muffins to melt your 'muffin tops.' "

University of Maryland Discovery: Muffin Safflower Oil for Flat Belly
University of Maryland's Dr. Michael Miller and his team did a study to fight belly fat. The team tested 2 different muffin recipes. They are:
1. A muffin recipe made with mono-unsaturated fat (this is the type of fat that you find in olive oil)
2. A muffin recipe made with polyunsaturated fat (this is the type of fat you find in safflower oil)
Muffins with Safflower Oil Study Results
In their study, the participants in the polyunsaturated fat group dropped up to 30 pounds. They lost much of their belly fat.
According to Dr. Miller…
"Previous studies have touted the benefits of olive oil, so we thought that the group given that type of fat would do better overall. But it turned out that the polyunsaturated group lost more weight and decreased waist size more."
Do the results surprise you? They certainly surprised me
We all know the power of olive oil — olive oil is healing.
Dr. Miller had also said,
"Many of our study subjects had never been successful in losing weight until participating in this study."
…That sounds so promising and motivating for any of us who is struggling to get rid of health-threatening belly fat and to lose weight.
About Safflower Oil
Safflower oil is colorless, odorless, and flavorless. It doesn't seem like a favorable condiment for people to use. If you add this oil in less appealing foods, you might not want to taste or use it at all because the oil is flavorless.
Safflower oil is not even found in my kitchen. I hate cooking in the very first place anyway! 😉
I often see bottles of safflower oil being displayed on the top shelf at my local health food store — and I just stare at them. 😉
Safflower oil is beneficial for our health. To get the benefits from safflower oil, people might prefer to use this oil in making muffins because muffins are so delicious.
Safflower Muffins with Diet Guidelines
If you incorporate these mini-muffins in your diet, you need to eat 3 mini-muffins throughout each day: 1 for breakfast, 1 for lunch, and 1 for dinner. You can eat them right before, during, or after the meal.
…You need to eat balanced meals.
…And you also need to cut 300 calories per day. What?! Oh no!
Oh, I just hate when I hear these 'healthy' words: balanced-meals, calories… 🙁
If you hate those words too, I don't blame you.
Life is too short and I have no time to count calories daily!
Reference:
Woman's World, 9/5/16, p. 20