Reading Time:
3
minutes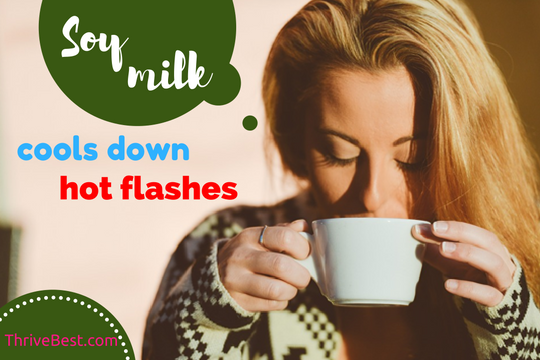 I just love soy milk and tofu very, very much.
I came from the Philippines. My dad worked at the Miller Sanitarium and Hospital in the dietary department. One of his jobs was to prepare soy milk for the cafeteria and for the patients' consumption.
After work, sometimes my dad brought some cold soy milk back home. We really enjoyed drinking it – it was a very refreshing beverage.
When I came to the US, I still loved to drink soy milk, and now my husband loves soy milk too.
My Friend's Peri-Menopausal Hot Flashes
I have a friend at our local church who is the same age as me. We were both experiencing peri-menopausal at the same time.
When she had her hot flashes at church, I could really see that her cheeks and her neck were so red, and that she was also perspiring a lot.
One time when I saw her redness, I asked myself: "Why is it that I never have that?"
At that time, I never knew that drinking soy milk had beneficial effects for women's health.
But later I found out that I have hypothyroidism. I have searched about hypothyroidism online and every one has said that soy destroys your thyroid health and that it's a very, very bad food to eat. They portrayed it as if "soy" is an evil food.
So I stopped drinking soy milk completely.
Soy for Women
I did read on some health magazines advising that women in their 40's should not totally avoid soy, such as organic tofu, edamame, miso, and tempeh.
For 2 years I stopped drinking soy milk. Every once in a while, I ate a tofu omelet which I made at home or tofu stir fried with vegetables from a Chinese restaurant.
And guess what happened!
…..
My Menopausal Hot Flashes
Now, I am in my menopausal stage and my hot flashes were once so severe. I'd never had that before. I thought maybe the hot flashes were worsening because I'm in the menopausal stage now.
Last month (August), I couldn't stand the sizzling heat of summer. A temperature of 80 degrees Fahrenheit is way too hot for me to handle. The moment I saw that the thermostat reading is 79, it was time for me to turn the air conditioner on.
The high heat was giving me a brain fog. It was very hard for me to concentrate and to focus on what I was doing. My vertigo or dizziness also got worse. I was very uncomfortable, and I felt worse and worse.
So I decided to drink soy milk again.
I would like to mention – every time I make a nutritional change to my health, I also need to go to my chiropractor for the adjustment for better circulation and nutrient absorption. It always gives me better results for whatever changes I am making to my diet.
The following day, after the chiropractor's adjustment, the heat was 80 degrees and I never felt the heat. I didn't even turn on the air conditioner.
I still have hot flashes, but it's only giving me a very minimal discomfort.
Hot Flashes Relief: Organic Soy Milk
If you want to add soy in your diet, make sure it's organic, and add organic soy to your diet gradually.
I drink 1 cup of organic soy milk at daytime and another cup just before I go to sleep. I also add a very little dusting of cinnamon to my soy milk to steady my blood-sugar level if my hypoglycemia is acting up.
I love the organic unsweetened soy milk from the Silk brand. And I just add organic maple or raw / unprocessed honey to sweeten it.
Soy milk gives me relief for hot flashes.
Products That You May Like:
Here are some great products for menopausal relief from Amazon.com. The following supplements also contain soy:
This product contains non-gmo soy isoflavones. This supplement also contains black cohosh extract, which is also very helpful for reducing hot flashes.
• Dr. Tobias Women Hormonal Balance & Menopause Support
This supplement is helpful for balancing hormones. It contains Dong Quai and other herbs, such as Red Raspberry and Red Clover, which provide menopausal relief. It also contains soy isoflavones. This a GMO-free product.
• Staying Cool for Hot Flashes & Menopause Relief
This supplement contains lots of minerals and vitamins: A, C, D, and B-complex to promote healthy menopause. It also includes herbs (Vitex, Black Cohosh, Magnolia, Hops, Soy, St. John's Wort) for reducing menopausal symptoms such as: hot flashes, night sweats, mood swings, weight gain, and sleep problems. This product is gluten-free, wheat-free, and dairy free, with no fillers and no binders.