Reading Time:
4
minutes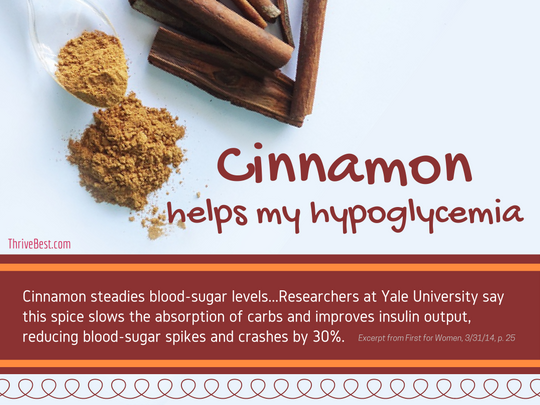 Are you wondering if cinnamon helps you in dealing with hypoglycemia?
I have hypoglycemia — this means that I have a low blood-sugar level. When I get hungry I get shaky, panicky and break out in a cold sweat. Then a few hours after that, I get a headache. And also, when I get hungry, I get angry. ;(
Hypoglycemia is very common for people who have hypothyroidism — which I also have.
When my hypoglycemia worsens, I get hungry within an hour of my last meal. This usually worsens when I am stressed.
Other people eat candy when their blood-sugar level goes down. Candy doesn't satisfy me. I prefer eating high-fiber, gluten-free cereal bars with whole grains and nuts — and these really help me.
My Worry with Hypoglycemia
So, I will share with you my experience in finding out about cinnamon's benefit for my hypoglycemia.
On the last weekend of May 2016 my youngest daughter was graduating from her high school education.
While the graduation weekend was approaching, I was worrying whether I could really attend this special occasion.
Her graduation was filled with so many happenings:
Friday evening – Consecration
Saturday morning – Baccalaureate, followed by a potluck where the graduates and families ate together
Saturday afternoon – Tribute to Parents and Senior Video
Sunday morning – Commencement (Graduation Day)
The events above were not 30 minutes long. They were more than an hour. The length of the daily events were too long for me, considering my hypoglycemia was worse during this time.
With all these events, I asked myself how could I fully attend the programs without missing anything.
It would be awkward for me to eat some snacks (cereal bars) with people around me in the auditorium. You know, when you unwrap cereal bars, they create a loud crinkly noise.
My Neighbor's Suggestion: Cinnamon
I had asked the Lord if he could somehow allow me not to feel hungry while I would be in these meetings.
Just a few days before the graduation weekend, I was in our front porch trying to get some sunshine while I was having my morning devotional.
Our next door neighbor, Carol, stepped out of her house to put some trash in her garbage can across the road. We chatted and she asked me how I had been doing.
I told her that we'd be leaving that weekend for my youngest daughter's graduation. I mentioned my hypoglycemia problem to her.
She has blood-sugar level problems too — she is a diabetic. Diabetics have hyperglycemia — a high blood-sugar level disorder. Diabetics also have to deal with the blood sugar spikes and crashes.
She told me that cinnamon powder helps her in normalizing her blood sugar. She said that she adds a pinch of cinnamon powder and mixes it with her snacks such as: yogurt, apple sauce, etc.
Cinnamon: The Good News & the Bad News
Good news: the next day I tried adding cinnamon powder to my smoothie, and sure enough, I never got hungry within an hour.
Bad news: after a week of using the cinnamon powder, my stomach hurt. I felt a burning sensation in my tummy.
I did read a book by Ellen G White, "Counsels on Diet and Foods," where she said that cinnamon irritates the stomach.
So I stopped using the cinnamon powder. I only use it when my hypoglycemia worsens — but I only use a small dusting in addition to my snacks and smoothies. I eat my snacks before I get hungry.
A pinch of cinnamon powder is too much for me. I just dip my index finger into the cinnamon powder and then dust it over my food.
Is Cinnamon Helpful for Hypoglycemia?
Last week I was curious about cinnamon's benefits for hypoglycemia because my hypoglycemia became worse again.
I searched the internet, and I found several questions were asked on different sites about cinnamon — if it is helpful for hypoglycemics.
People have answered the posted questions. Their answer was that cinnamon is beneficial to diabetics because it brings down the blood sugar to a normal level.
Cinnamon Steadies Blood-Sugar Levels
A few days ago, I was perusing a health magazine. I found this news, and I would like to quote it:
"Cinnamon steadies blood-sugar levels: Post-dinner blood-sugar flux increases the risk of sleep disruptions, according to Canadian studies. A delicious Rx: Add 1/4 tsp. of cinnamon to your nighttime snack (try sprinkling it on applesauce or whole-grain toast). Researchers at Yale University say this spice slows the absorption of carbs and improves insulin output, reducing blood-sugar spikes and crashes by 30 percent." (1)
Reading this magazine news, my understanding of cinnamon became helpful for hypoglycemia.
You need to discuss the use of cinnamon for your blood-sugar maintenance with your doctor.
Products You May Like – From Amazon.com
• Organic Wise Ceylon Cinnamon Ground Powder (1 lb)
This is organic Ceylon cinnamon. This cinnamon is harvested from a Sri Lanka farm that is USDA certified. This product contains no additives. It is preservative-free, sodium-free, salt-free, and non-irradiated.
• KIND Bars, Cranberry Almond + Antioxidants, Gluten Free, 1.4 Ounce Bars, 12 Count
This is one of my favorite cereal bars. It has a lot of fiber and is very satisfying for me — great for snacks when I get hungry. I love cereal bars that are not too sweet. They are wheat-free, gluten-free, and dairy-free.
Reference:
(1) First for Women, 3/31/14, p. 25
Helpful info:
http://www.earthclinic.com/cures/hypoglycemia.html