Reading Time:
4
minutes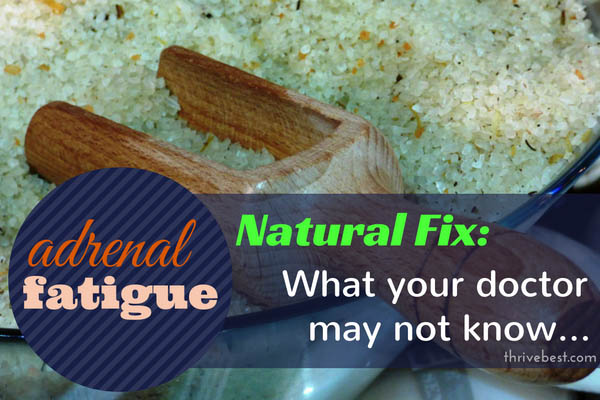 I remember one winter when I had a severe food allergy and I got very itchy hives. I was eating very, very little food: no salt, no sugary foods, and no fruits.
I was so weak. While I was lying down in bed, I was feeling my body was shutting down. My ears were hearing faintly, my breathing was slowing down, and my vision was getting dimmer.
Fortunately I didn't get panicked, and I asked my girls to pray for me. I stayed so calm.
At the time, I still had no idea what was really going on with me.
Looking back, I had no clue that eating no salt could be the cause of what I was suffering from.
Previous Salt Studies
In the 70's there were a lot of studies in which using sodium (salt) appeared to have a connection with heart disease. So doctors and health experts had advised their patients to cut way back on their salt consumption.
I remember sometime in the 80's my mom and my uncle said that salt was causing their blood pressure to go up. Also, some individuals in our church had testified that salt was making their blood pressure worse.
There was a time when I heard my mom and my uncle say that their doctors told them that stress was the cause of their high blood pressure and not cholesterol. But they were avoiding salt too because every time they ate it, their blood pressure went up. None of us knew that using the right kind of sea salt would help with their stress and lowering their hypertension.
The Importance of Using Salt
Now new studies indicate that the salt guideline consumption is way too low for what a person needs.
Fred Pescatore, M.D., an integrative physician says,
"Every cell needs sodium to function."
In the 90's, my father-in-law told us that sea salt would lower high blood pressure. He is a person that talks very few words, and so I never heard him explain further about salt.
Before I was using the Celtic Salt, he had already been using Pink Himalayan salt. And I never heard him mention the benefits of using the pink salt.
When I heard my father-in-law say that sea salt is helpful for lowering blood pressure, I said to myself: "He doesn't know what he was talking about." Because in my experience, sea salt never helped me at all. In fact, sea salt was giving me food sensitivity and high-blood pressure too.
Adrenal Fatigue Caused By Less Sodium
Dr. Pescatore further explains,
"Without enough sodium, your cells don't function well. In response, the adrenal glands put out cortisol to make you hungry so you eat more salt. The increased demand for cortisol can overwork the adrenals, impairing their ability to release energizing hormones."
In my previous article, Charlotte's physician had explained the same thing to her: "Chronic stress causes the adrenal glands to release more cortisol and then burn out."
So what do you think would be the result?
Of course, fatigue, brain fog, and mood swings.
But unfortunately, doctors still get the bad message that "salt is bad."
Dr. Pescatore says further,
"… adrenal fatigue caused by a sodium shortfall is always overlooked."
Has your doctor mentioned salt to you yet? I hope you are not going through what Charlotte Siems had experienced. If you missed her story, you can read about it here → How to Heal Adrenal Fatigue Naturally: Sea Salt and Lifestyle Changes
Other factors that Weaken the Adrenals
• If you are exercising or working out and you sweat excessively, your body loses a lot of sodium.
• If you are experiencing hot flashes (perimenopause and menopause) and you sweat a lot, this also increases the amount of sodium that your body loses
• If you are stressed, your adrenals produce more cortisol and therefore further weaken your adrenals.
Occasional stress is normal, but when you are constantly under stress, your adrenals will eventually get exhausted.
Healing the Impaired Adrenals With Right Salt: How Much?
If you want to know the function level of your adrenals have your doctor run a DHEA-sulfate blood test. If the result of your lab test shows that you have impaired adrenals, you can try the steps below with your doctor's approval and guidance.
1. Daily Salt Consumption
Michael Alderman, M.D., a past president of the American Society of Hypertension and epidemiologist at the Albert Einstein College of Medicine in New York City says:
"Aim to consume 2.5 to 5 grams of sodium a day."
That's the equivalent to 1 to 2 tsp. of salt. This is more than the current dietary guidelines.
2. Use the Right Salt
Dr. Pescatore recommends looking for unbleached or unrefined salt because the refining process removes the valuable nutrients that our body needs.
If you are using sea salt that looks so white, that means your salt is bleached!
This is the reason why I (as well as my mom and uncle) was getting food sensitivity and hypertension: because we were using the wrong kind of sea salt.
In my previous post, I mentioned that I am personally using Celtic Salt, and Charlotte Siems (the lady in the story who had success in treating her adrenal fatigue naturally) is using Pink Himalayan salt.
Warning for Women Who Have Hypertension
Women who have hypertension (high blood pressure) are advised by their doctors to limit their salt to 1,500 mg. a day.
George Bakris, M.D., director of the Comprehensive Hypertension Center at the University of Chicago says,
"I recommend 2,300-2,400 mg. daily to my patients. It's in keeping with the Institute of Medicine's recommendation, and if you have hypertension or related problem, it's very effective at maintaining lower levels of blood pressure."
Dr. Bakris suggests that if you have hypertension, ask your doctor to find the right amount of sodium, and a diet and exercise plan that works for you.
Dr. Bakris says further,
". . . We need a certain amount of sodium for our bodies to function."
The post above is based on the info from First for Woman, 10/10/16, p. 41