Reading Time:
5
minutes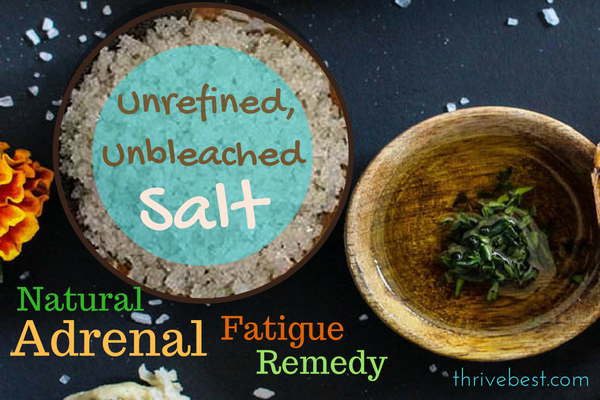 Salt makes our food taste good. Whether it's sea salt or ordinary table salt, they both make food tasty.
But make it sure you use the right kind of salt — that will not harm you.
Adrenal Fatigue Symptoms
To tell you the truth, I hate writing post with symptoms — they just make me feel worse. It somehow puts a negative effect on me. It makes me feel tense and stressed. I can just feel it while writing this particular paragraph now.
However, I love writing articles with solutions. Now, I feel better and it makes me smile.
I'm going to share with you my experience in using salt. Well, I'm going to mention the symptoms, but I feel excited because it comes with a solution.
A few years ago, I never knew exactly what I was suffering from. I had panic attacks and vertigo (or dizziness). I didn't know that these are just a few of the many symptoms of adrenal fatigue. They can be symptoms of hypothyroidism too, which I also have.
At first vitamin B complex, extra vitamin B5, and brewers yeast had helped. And also, lots of cooked brown rice.
But before the panic attacks and vertigo, I often had food and environmental sensitivities: sugar, salt, enzymes from fresh foods, perfumes, and cleaners with chemicals, etc.
One time, in the middle of the night, around 2:00 a.m. I woke up feeling shaky and a little hungry. So I had a little snack and then went back to sleep.
The following night I was up again and feeling shaky and hungry. So I had a little snack.
After a few nights, I woke up every 20 minutes. Every time I woke up I had a little snack. By the fourth time I had to eat a snack, I was already full. I couldn't eat anymore and my shakiness was getting worse.
So I woke up my husband and asked him to pray for me. While he was praying, something popped in my mind: SALT!

So I took a pinch of salt and put it on my tongue and in a flash my panic went away.
I don't know if you called this miracle, but for me it is a miracle and I tremendously praise the Lord for His goodness.
Then after that, I was no longer waking up with shakiness and hunger, and I never had that episode again.
Thankfully, I had the right kind of salt at home. . . Just continue reading you will learn more.
Adrenal Diet: Salt and Vitamin B Complex
Salt is a part of my diet now. Though at the times that I feel shakiness or a slight panic, I just take vitamin B complex and another B5.
My favorite B complex is this one: Isotonix Activated B-Complex
My favorite B5 (Pantothenic acid) is from NOW Foods or Solaray.
Adding Salt for Adrenal Fatigue: How Much?
You might be wondering how I came to know about salt.
Fortunately, several months before that panic episode I got hold of a book by Dr. James Wilson — Adrenal Fatigue: The 21st Century Stress Syndrome.
This is what Dr. Wilson says in his book (pp. 165-166):
"Water poses a specific problem for people with adrenal fatigue because they tend toward dehydration but can easily over dilute the circulating electrolytes (sodium, potassium and [chloride]) in their blood by drinking too much water. The balance of sodium and potassium significantly affects the symptoms experienced by people and drinking plain water alters this balance . . . To help balance the ratio of water to sodium try adding 1/4 to 1/2 teaspoon salt (sodium chloride) to every glass of drinking water. You will probably find that the lightly salted water actually tastes better than regular water if your adrenals are low because the salted water is more beneficial to your body. If you are feeling especially draggy or fatigued, add more salt to the water. If you have an aversion to salted water, then you probably need less salt or no salt in the water. Too much salt in the water will make you nauseated so adjust according to taste."
My Salt Sensitivity
Earlier in this post I mentioned that I was sensitive to salt. My acupuncturist who is also an allergist had found this out. So for many, many years I had very, very little salt in my food.
You might be wondering how I made my food taste good. Oh, I use Braggs Liquid Aminos. This makes my food so tasty. A lot tastier than salt.
I tried to avoid salt because it brought my blood pressure up. Also, I've heard from many people who have high blood pressure that sea salt makes their blood pressure worse.
One time I even heard someone in church say, "Sea salt is salt." He meant that sea salt is the same or as bad as regular salt.
I've read many health articles saying sea salt is good for people who are suffering from high blood pressure. I had already been using sea salt but it never helped my high blood pressure.
My Doctor Recommends Celtic Sea Salt
Before I had Dr. Wilson's book and the panic attack episode, my doctor treated my hypothyroidism.
One day, I visited my doctor's website and he listed foods and supplements that he recommends for his patients to take. One of the items in his list is Celtic sea salt.
I asked myself what's the difference between the Celtic sea salt and the sea salt that I had been using.
So I went to my local health food store. Thankfully, they had Celtic sea salt when I visited the store.
By the way, this was my very first time to hear about Celtic sea salt. At this time I still didn't know the importance of sea salt for hypothyroidism and adrenal fatigue.
Unbleached Sea Salt – The Right Kind
I checked the package to see what makes this Celtic sea salt different from what I had been using. Lo and behold, the package says that their salt is "UNBLEACHED."
No wonder why my sea salt was SO WHITE as clean snow and the Celtic sea salt looked DIRTY WHITE!
I wonder how the sea salt makers bleach the salt! It sounds to me that they use some chemical(s). Chemicals are a dirty thing for me.
No wonder why I was sensitive to sea salt and got a high blood pressure. I thought I was just sensitive to sea salt for without any reason.
The articles that I've read about the benefits of sea salt never mentioned using "unbleached" sea salt. They do say to use the "unrefined sea salt." The term "unbleached" makes more sense to me because I have chemical sensitivity.
I have a friend at church who used to say that any salt gave her high blood pressure. I told her to use Celtic sea salt because it's unbleached. Then later she mentioned that Celtic sea salt is not giving her high blood pressure and she can add salt in her food now.
The Celtic sea salt package says that their brand is recommended by Doctors and Natural Health Practitioners around the world.
By the way, I don't follow Dr. Wilson's dosage in using Celtic sea salt. The dosage of 1/4 to 1/2 teaspoon (to every glass of drinking water) is too salty for me. I add a pinch of sea salt and sprinkle over my food and drinks such as rice, soup, oatmeal, herbal tea, orange juice, soymilk, etc.
If you would like to try the unbleached sea salt for healing adrenal fatigue naturally, it is probably best to start gradually when you use it.