Reading Time:
3
minutes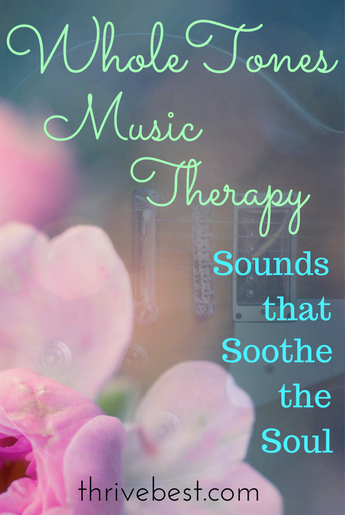 I would like to write my first review of Michael Tyrrell's Wholetones Healing Music Frequency since I have been using it often.
The music has been a big part of my life, especially in dealing with stress.
But before I share you my experience of using the product, I'm going to briefly discuss sound waves and frequencies (even though I'm not a scientist).
You might be wondering how music can be a natural healing tool. Yes, there is such thing as "Music Therapy."
I have read in one of my health books that not very many doctors know about this healing tool.
Music has sound waves and frequencies (or vibrations or energy). It affects us in many ways.
How Do Sound Waves Work?
When there's a movement of energy, it produces sound waves. These waves carry the sound energy farther from the source. Just like when you drop a stone into a puddle of water, you will see waves form and move outward.
Without sound waves, we would not be able to hear any sound such as: music, ringing of a telephone, dog barking, etc.
Sound waves are very powerful. . . How powerful?
Did you know that sound waves produce images?
Yes, they do!
You ask, "How?"
Have you heard of 'ultrasound'? Hospitals and medical clinics use ultrasound to produce images to see what is inside of you.
The very first time I had an ultrasound was when I was pregnant with my first child. Through the use of ultrasound, doctors can tell whether the baby inside of you is a boy or a girl.
With the advanced technology, pregnant women can now see the faces of their babies from the ultrasound images.
Also, the ultrasound is a great diagnostic tool. From the images they see, doctors can make a diagnosis and then they will treat you with drugs.
Drugs make me sicker! But thankfully, there is music therapy available.
Power in Music
There is power in music, too. The music frequencies (or vibrations or energy) affect us physically, mentally, emotionally, and spiritually.
Music promotes spiritual health. It brings our relationship with God closer so that we can put our trust in Him. Then we want to serve Him, glorify Him, and praise Him.
Mentally, music helps establish peace of mind. And emotionally, it affects our mood.
There are songs with vibrations that make you stressful and then as a result it raises your blood pressure. When you are stressed, your immunity goes down. Then your body is less able to fight against diseases.
There are also songs that are soothing and calming to your nerves, which can really help you in relieving stress and helping your body to heal.
WholeTones Healing Frequencies
Michael Tyrell's Wholetones music has unique sound frequencies. These frequencies are also known as vibrations (or energy). Without vibrations (or energy) there would be no sound waves.
When you see the numbers in the Wholetones titles, be aware that they are the numbers of vibrations per second. I believe these vibrations, in a positive way, affect and stimulate the cells in your body. So the Wholetones music works in your body on cellular level.
The Wholetones musical arrangements (guitar) are specifically designed to aid in the healing and restoration of body, mind, and spirit.
Music therapy is not a cure-all. But for me, WholeTones music is more effective in coping with my day-to-day stress than doing guided meditation. It's very helpful in putting me to sleep.
Speaking of guided meditation, the video below is used to be my favorite for relaxation. But what I like about WholeTones music is making me calm also while I do any challenging task…You can read my testimonial here → Whole Tones Healing Frequencies Music Project Review