Reading Time:
5
minutes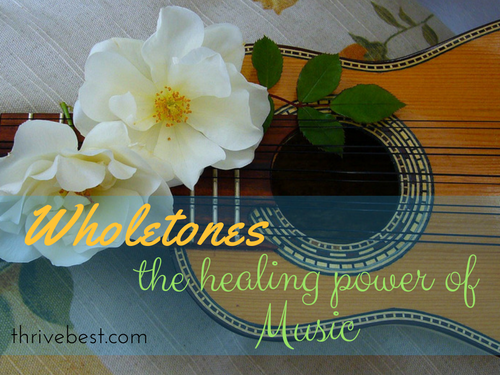 Before giving you my review of the Whole Tones Healing Frequency Music Project, I will share my health struggles with you first.
I am a woman over 50. A woman of this age is usually going through a special "change of life" — menopause. Because my body is going through a phase of change, my body is under stress.
Before turning 50, I had already been struggling with stress. Every time I'm stressed, I get food allergies or food sensitivity, and then I get hives.
It always took me 3 months to get healed. Plus, I had to do food elimination. And yes, I did lose weight every time I got hives.
Food preservatives, chemicals, and the change of seasons are also causes of my allergies — and then my hives appear.
There are other times when I have allergies. Whenever I am close to my computer, I feel a prickly and stinging sensation on my feet. This means that I am sensitive to the electromagnetic field (EMF) also.
And also when I am near to someone who has gotten a vaccination, it stresses my body because vaccination has a lot of chemicals in it. That's how sensitive I am.
Now I am in a new neighborhood, and I have a few neighbors in the area who are very particular with caring for their yards. They fertilize and spray their yards with chemicals periodically. Every time they do their yard care, I smell the malathion in the air. The smell is so nasty that I feel like I could vomit.
Natural Healing for My Hives
Whenever I get hives, I go for acupuncture treatment. My acupuncturist is also an allergist. Before she treats me with acupuncture, she performs allergy testing on me so that the acupuncture treatment will be especially helpful for me.
When she found out one of my food sensitivities, I had to eliminate that food from my diet. When the allergy was due to the environment, I had to stay inside the house.
So now that I am in the menopausal stage, my body is under even more stress.
In the early Spring of this year, I was feeling so stressed. While I ate my meals, I felt as if I was in a hurry to leave and try to catch a train, fearing that I might miss the trip. I also felt that I was leaving for a very important appointment and afraid of being late. I also had this feeling that I was leaving for work and was afraid to be late. When, in reality, I was going nowhere. I didn't have plans to go anywhere. So while I was eating, my body was dictating me to hurry, hurry, hurry.
I did say it was Spring, right? Many things were going around such as: changing of season, vaccinations, and yard care–malathion was in the air. Because of these undesirable things going around, I was feeling so stressed, and then I was getting hives on my upper left leg.
Soothing Music for Healing
One morning, while I was taking a pause from the computer, I felt like I had a need of hearing some kind of soothing music that could give me healing and calmness. So I talked to the Lord. I said, "Lord, how I wish there was some kind of music that I could hear to help me in dealing with my stress."
Then not very long after that, I received an email from a health expert. His email came with this title: "7 Healing Songs that Banish Stress and Reduce Cancer Risk". Oh, this really got my attention.
Just seeing the email title made my eyes perk up. I said to myself: "This is just what I need." Then I immediately clicked and read the message.
Even though I was looking for some kind of music to heal me, I was still skeptical. I wasn't convinced of the message that I read from the email.
The email mentioned Frequency Healing.
I had already heard about Frequency Healing through my chiropractor. In fact, through the Healing Frequency testing, I found out that I had Lyme Disease, which is very common for people who have hypothyroidism.
"New Age Music"
After reading the email, my mind was already thinking — this must be some "new age music."
I had already been hearing this "new age music" every time I went to my acupuncturist clinic. So I was already expecting that when I visit the site, I would be hearing the same kind of music that I heard already at my acupuncturist's clinic.
When I landed at the Whole Tones Music site and saw the logo with circular designs, I was very sure that it was a "new age" thing.
However, I still wanted to know about it because I had already heard about Frequency Healing from my chiropractor. So I read the content of the website.
WholeTones Healing Music Review
In the site there are available short samples of the Whole Tones music for the visitors to listen. The very first music that I heard, it made me cry.
Michael Tyrrell explains in his ebook (that accompanies with his Whole Tones music collection) that these tears are not of sorrow but they are cleansing tears because it brings us awareness of our spiritual life.
I bought the Whole Tones music hoping it would help me with my hives.
Effective Music Frequencies
I played the music '639 Hz – The Bridge' often because it says that it is effective for the adrenal and endocrine system. The adrenals are responsible for dealing with stress.
And I had also played for several times the '528 Hz – Transform' music, which is beneficial for balancing the hormones. As I have said, I am in my menopausal stage and I'm dealing with hormonal imbalances.
WholeTones Music Works
Here's the Good News: After 3 days of playing the music, my hives dried up. They were no longer red and puffy. The color turned into a light-brownish color. Because the hives had dried up, my skin was somewhat rough.
My husband was even surprised because it started to heal so fast. He said to me, "It always took you 3 months to get healed."
I praised the Lord for the healing of my hives through the Whole Tones music.
By the way, the sound of the WholeTones songs are not "new age music" style.
For my next miracle story, here's my 2nd testimonial for the Whole Tones Healing Music Review.